Northampton Toy Shops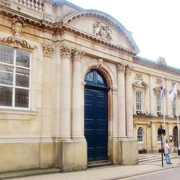 This large market town in the East Midlands saw a rapid growth in the 1960s, ensuring there are plenty of small Northampton toy shops to choose from. The Grosvenor Centre is the town's major city-centre shopping destination - and this is home to some of the larger chain retailers such as The Disney Store. The headquarters of the Toymaster buying group is based in Northampton, supporting hundreds of independent toy shops all over the UK.
We recommend you check out some of the smaller independent toy shops that Northampton has to offer. This includes Tooley's RC Toys (that stocks an impressive range of radio and remote-controlled toys) and My Tiny World, a family-run business that sells the largest and most eclectic range of miniature dolls house accessories we have ever seen!
POPULAR RETAILERS
Gladstone Road, Northampton, Northamptonshire, NN5 7QA
01604 595537
23 Princes Walk, Grosvenor Centre, Northampton, Northamptonshire, NN1 2EL
016 0423 4876
14 Peacock Place, Northampton, Northamptonshire, NN1 2DP‎
01604 626256‎
17-19 Abington Street, Northampton, Northamptonshire, NN1 2AN‎
01604 604123‎
24-26 Abington Square, Northampton, Northamptonshire, NN1 4AA
01604 636687
Pondwood Close, Moulton Park, Northampton, Northamptonshire, NN3 6DF
St. James Retail Park, Towcester Road, Northampton, Northamptonshire, NN1 1EE
01604 608150
Unit 3, 4-6 Ravens Way, Crow Lane Ind Estate, Northampton, Northamptonshire, NN3 9UD
Unit 22, Ross Road, Northampton, Northamptonshire, NN5 5AX
01604 759964
Unit 2, The Old Dairy Farm Shopping & Craft Centre, Upper Stowe, Northampton, NN7 4AT
07961 757094
Victoria House, Newport Pagnell Road, Northampton, Northamptonshire, NN4 7JJ
OTHER RETAILERS
Gamestation

43 Drapery, Northampton, Northamptonshire, NN1 2EU
01604 233 883‎
The Dolly Lodge

26-28 The Square, Earls Barton, Northampton, Northamptonshire, NN6 0NA
01604 812852
The Gadget Box

217 Wellingborough Road, Northampton, Northamptonshire, NN1 4EF‎
01604 250 989‎
Tooley's RC Toys

9 St Leonards Road, Northampton, Northamptonshire, NN4 8DL‎
01604 677 477‎