Pembrokeshire Toy Shops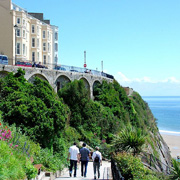 Situated in the far south west of Wales, Pembrokeshire has a large tourist industry with Tenby and Saundersfoot being the most popular destinations. There are plenty of toy shops in the region which are scattered over all the small towns and villages that make up the county. Although all the multiple retailers will sell a selection of toys, people will not have to travel far to find an independent toy retailer that specialises in hobbies, dolls, soft toys, puzzles and games.
Jellybean in Milford Haven is a specialist sweet shop, but it also sells a great selection of traditional wooden toys plus space hoppers, yo-yos and spinning tops. Customers can find toy shops in Haverfordwest, Pembroke Dock, Milford Haven, Fishguard, Tenby, Saundersfoot, Narberth or Neyland.
POPULAR RETAILERS
20 Riverside Quay, Haverfordwest, Pembrokeshire, SA61‎
0845 165 7279‎
Bounce House, Unit 1, London Road Ind. Est., Pembroke Dock, Pembrokeshire, SA72 4RZ
0800 032 5879
Waterloo House, 23 High Street, Tenby, Pembrokeshire, SA70 7HD
07812928195
67 Charles Street, Milford Haven, Pembrokeshire, SA73 2HA
01646 697008
OTHER RETAILERS
Activity Garden Toys

The Old Mill, Tangiers, Haverfordwest, Pembrokeshire, SA62
01437 762386‎
Bubbles

7a Riverside Market, Swan Square, Haverfordwest, Pembrokeshire, SA61 2AN
07896 950866
The Teddy Workshop

186 Prendergast, Haverfordwest, Pembrokeshire, SA61 2PQ
01437 763767