Shropshire Toy Shops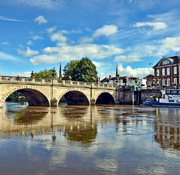 Narrow your results: browse for toy shops in Shropshire towns:
Shrewsbury, Telford.
Bordering Wales in England's West Midlands, Shropshire is very rural and relatively lightly populated. Six main towns in the area are home to most of Shropshire's toy shops, with Shrewsbury, Telford, Wellington, Dawley and Madeley being among the main ones. The popular independent chain The Entertainer has a branch in Telford, whilst Podium RC in Shrewsbury offers a great choice of radio-controlled vehicles and aircraft.
Shoppers in all of Shropshire's towns can benefit from modern shopping centres where a selection of multiple toy retailers can be found. It's the side streets however, that contain the most interesting toy retailers who sell a terrific mix of traditional and modern toys, dolls, games, models and the latest electronic gadgets.
FEATURED RETAILERS

Ride On Toys is the retail arm of Hawkmoto who have been serving the toy industry for over 15 years.
Read more about Ride On Toys >>
POPULAR RETAILERS
Unit 7, Meole Brace Retail Park, Shrewsbury, Shropshire, SY3 9NB
0845 165 7150‎
Elmwood Road, Wellington, Telford, Shropshire, TF1 2NT
0333 577 5267
20 Sherwood Street, Telford, Shropshire, TF3 4BW
01952 290988
1 The Laurels, Stars Lane, Cold Hatton, Telford, Shropshire, TF6 6PZ
8 Pride Hill Mall, Shrewsbury, Shropshire, SY1‎
01743 242107‎
6 Market Street, Shrewsbury, Shropshire, SY1 1LE
01743 362 007
38C Vanguard Way, Battlefield Enterprise Park, Shrewbury, Shropshire, SY1 3TG
0845 3891400
Telford Bridge Retail Park, Colliers Way, Telford, Shropshire, TF3 4PB
204 Dean Street, Telford, Shropshire, TF3 4BT
01952 210095
OTHER RETAILERS
Bears On The Square

The Square, Telford, Shropshire, TF8 7AQ
01952 433924
Funfayre Toymaster

7 Claremont Street, Shrewsbury, Shropshire, SY1 1QG
01743 233647
Gamestation

Telford Shopping Centre, Telford, Shropshire, TF3 4AA
01952 204 436‎
Podium RC

Knights Way, Battlefield Enterprise Park, Shrewsbury, Shropshire, SY1 3AB
01743 466144
Sanda Games

4 Albert Place, Telford, Shropshire, TF2 8AF
01952 676722