Moons Toymaster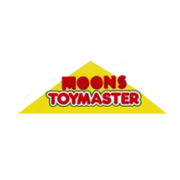 Address
85 High Street, Newmarket, Suffolk, CB8 8UG
Telephone
01638 663147
About
As a regular winner of the 'Anglian Toy Shop of the Year' award, Moons Toymaster is a popular Newmarket toy shop with three floors stacked full of all kinds of toys and models. It has been trading for almost 50-years and was taken over in 1989 by Val and Barry Stedham and then sold to Amit Parekh in 2008.
Situated on Newmarket's High Street, Moons toy shop has two large toy model soldiers keeping guard of the shops roof at all times! Touches like this are what make this shop so popular in the Newmarket area - and its convenient location is backed up with free parking that is available directly outside.
As a member of the Toymaster Group, Moons Toymaster is able to offer a significant variety of toys at very competitive prices. The products sold can be loosely divided into toys and models - with popular brands like Brio, Playmobil, Lego and Tomy featuring heavily.
The shop has been a generous supporter of the NSPCC - and when Mrs Stedham retired she received a special presentation from the children's charity to thank her for the shops support over the years.
Moons Toymaster is a Newmarket toy shop that specialises in models.