Tiny Tot Shop
(1 review)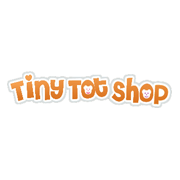 Address
67 The Crescent, Leeds, LS25 2EU
Telephone
0845 619 3664
Website
www.tinytotshop.co.uk
About
Leeds-based Tiny Tot Shop is a small, family-run business with young children so understands the needs of both parents and children alike. It was started by Louise McMahon and Paul Baker after experiencing the likes and dislikes of children and parents for themselves.
The shop's website has been built to make it as easy as possible for customers to find and buy the products they need without paying the earth for them. All the products for sale have been hand-picked from selected suppliers from Britain, Europe and the USA.
Tiny Tot Shop sells a variety of products including wooden toys, soft toys, puzzles, electronic toys, crockery, decorating materials and other interesting products including slings, cute socks and lots more. These are from various brands including Melissa and Doug, Trumpette, Charlie and Lola, DecoFun, MB Games, EllaRoo and Patapum. Shipping charges are inexpensive and completely free when you spend over £50.
Tiny Tot Shop is a Leeds toy shop that specialises in wooden toys.
---
Favourite suppliers

---
Favourite licences
---
Additional facilities