Melissa & Doug Toys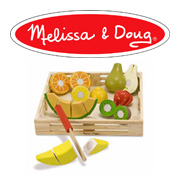 Founded in 1988, Melissa & Doug is a US-based toy company that produces almost 1000 different educational toys and children's products. This covers a diverse range of toys: puppets, soft toys, creative kits and chunky wooden puzzles.

Melissa and Doug toys are well-known for their excellent design, superb quality and a very strong emphasis on providing educational benefits. Their range offers something for everyone and covers all price-ranges too. From the showcase Melissa and Doug Deluxe Kitchen right down to a Doodle Pad and box of white chalk, all Melissa and Doug toys have the company's signature on the packaging as a committment to the safety and quality of their products.
We particularly like their wooden and creative products, typified by the popular Melissa & Doug Deluxe Easel that is used by kids all over the world. They also make some great wooden puzzles such as the Melissa & Doug Pets Sound Puzzle where you are rewarded with a sound effect if you get the shape in the right place. The independent retailers below all stock large ranges of these toys. Click on their names to find out more about them.
RECOMMENDED RETAILERS

Amazon
The world's most famous online retailer sells an unparalleled selection of toys.
Buy Melissa & Doug toys now >>

Babe-equip
Wide range of baby toys and nursery equipment including travel systems.
Read more about Babe-equip >>

Crafts 4 Kids
Online retailer of creative, educational, wooden and activity toys.
Read more about Crafts 4 Kids >>

Hubbard's Toy Cupboard
Independent toy shop and comprehensive website stocking Brio and Galt products.
Read more about Hubbard's Toy Cupboard >>

Purely Boys
Fun and unusual gifts for boys from birth to thirteen years old.
Read more about Purely Boys >>

The Childminding Shop
eCommerce website devoted to providing a one-stop-shop for educational toys.
Read more about The Childminding Shop >>

The Forgotten Toy Shop
Sells high quality traditional toys and games for the young (and young at heart).
Read more about The Forgotten Toy Shop >>

The Puppet Factory
A huge selection of beautiful puppets that are suitable for use in many places.
Read more about The Puppet Factory >>

Tiny Tot Shop
A wide variety of products including wooden toys, soft toys and jigsaw puzzles.
Read more about Tiny Tot Shop >>

Toyville
Online sales of quality wooden toys by Hape, Bajo and Tegu plus Melissa & Doug.
Read more about Toyville >>

Wooden Toy Shop
An online toy shop dedicated to the sale of traditional wooden toys.
Read more about Wooden Toy Shop >>