Leeds Toy Shops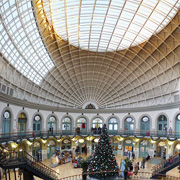 Leeds is the largest city in West Yorkshire and boasts some of the best shopping opportunities in the UK. In particular, there are a generous selection of toy shops in Leeds that range from large chain stores to more niche and independent retailers. Leeds rose to prominence in the 19th century as a leading light of the Industrial Revolution.
This economic power has ensured that the city now boasts a staggering array of locations to buy the very latest toys. Although the Victoria Quarter and The Light are more suited to people looking for fashion items, Leeds city centre (and the various out-of-town shopping centres) is something of a toy shoppers heaven with a large selection of toy shops to choose from. Kirkgate Market on Vicar Lane is also a good place to hunt for the very latest toy bargains.
FEATURED RETAILERS

A wide variety of products including wooden toys, soft toys and jigsaw puzzles.
Read more about Tiny Tot Shop >>
POPULAR RETAILERS
112a Harrogate Road, Leeds, West Yorkshire, LS7 4NY
0113 266 7500
Unit 49, White Rose Shopping Centre, Leeds, West Yorkshire, LS11 8LT
0113 277 4330
Unit 1 Buslingthorpe Green, Industrial Estate, Meanwood, Leeds, West Yorkshire, LS7 2HG
0113 2177141
16-17 Commercial Street, Leeds, West Yorkshire, LS1 6AL
0113 2458305
Suite 2, The Evergreen, 29 Whinmoor Gardens, Leeds, West Yorkshire, LS14 1AF
0113 265 8318
Unit 1, 14 Main Street, Garforth, Leeds, West Yorkshire, LS25 1EY
0843 2891024
Crown Point Retail Park, Junction Street, Leeds, West Yorkshire, LS10 1EW
01132 440555
10 Arran Way, Rothwell, Leeds, West Yorkshire, LS26 0WB
0113 2828162
31 Parkside Road, Pudsey, Leeds, West Yorkshire, LS28 5BG
07969 376677
Suite 2, The Evergreen, 29 Whinmoor Gardens, Leeds, West Yorkshire, LS14 1AF
0113 2653459
8 Consort View, Leeds, West Yorkshire, LS3 1NX
0113 226 6156
OTHER RETAILERS
Gamestation

2-3 Kirkgate, Leeds, West Yorkshire, LS1 6BY
0113 246 9353‎
Teddy & Co

6 County Arcade, Leeds, West Yorkshire, LS1 6BN
0113 245 3059
The Toy & Jigsaw Shop

Kirkgate Market, Leeds, West Yorkshire, LS2 7HW
0113 246 0387