Toy Puppets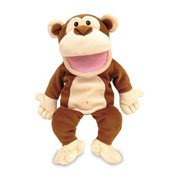 Similar to dressing up costumes, toy puppets allow kids to experiment with different personas and to produce highly imaginative stories and scenarios through their interaction with 'make believe' characters. These toy puppets usually take the form of either finger or hand versions for smaller children. They can then progress onto string puppets, otherwise known as marionettes. The most well known versions of this type are the original Pelham Puppets, which are now being made again in Staffordshire.
Almost everyone will have been amused by a Punch and Judy show, which is a great example of a hand or glove toy puppet in use. Body puppets are used to great effect in stage shows, where a person will be operating the controls from within the animal or person outfit. Sometimes as in the case of a horse, two people will be inside one costume which requires a huge degree of control and trust.
The element of performance and theatre is something that can be hard to replicate with other kinds of toys, and many traditional toy retailers include a great selection of puppets in their ranges. This ever-popular role play toy is also sold by an increasing number of online retailers as well.
FEATURED RETAILERS

The world's most famous online retailer sells an unparalleled selection of toys.
Visit Amazon Now >>

A huge selection of beautiful puppets that are suitable for use in many places.
Visit The Puppet Factory Now >>
OTHER RETAILERS