Chuggington Toys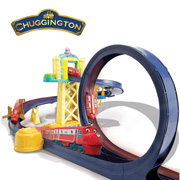 Popular CBeebies show Chuggington is a runaway success with millions of kids watching every episode. Major toy producer Tomy makes a huge range of die cast toy versions of many of the engines as well as the accessories that go with them. Chuggington toys are faithful reproductions of the modern engines like bullet trains, the latest diesel loco or old fashioned steam engines. Every one is a kidís favourite character.
CBeebies continues to invest in the Chuggington brand so that all their young viewers can continue to enjoy new episodes, adventures and especially the new characters in each series. Series 3 was launched with at least eight new engines, new locations and a near cinematic experience by using the latest animation movie photography equipment.
The storyline will be well known to all the young fans, when Dunbar the instructor tries to teach all the younger engines that have so much to learn from him. Wilson, Brewster and Koko are always up to mischief and trouble, and other Chuggington toys include Irving, Harrison and Emery. The eyes and faces of all the engines are just like those in the show, and we know that Chuggington toys sell in their thousands. Thereís even track for them to run on, a storage case and, of course, a repair shed.

Childrenís imaginations can run riot in a world where all the trains can come to life, and the Chuggington toys help them enjoy their favourite TV show even more. The Interactive Chuggington train sets feature technology that enables the engines and trucks to talk to each other using real phrases from the TV series! With many other Chuggington-endorsed merchandise available, this is a brand that has a long life. Giant-sized remote control Koko and Wilson engines extend the play value of this fantastic railway brand. Nine inches long and controlled by individual hand units, kids love steering their favourite engine around the furniture and under the bed!
As if all the excitement surrounding Chuggington wasnít enough, Tomy also make a series of wooden Chuggington train sets, engines, wagons, tracks and buildings. All the favourite characters are included – Brewster, Wilson, Irving, Hodge and many others. Featuring magnetic couplings and made of real wood, each engine is a realistic replica of the characters that kids know and love so much from the TV show. The wooden Chuggington track pieces are compatible with all other wooden railway systems, including Learning Curveís own Thomas & Friends wooden train system.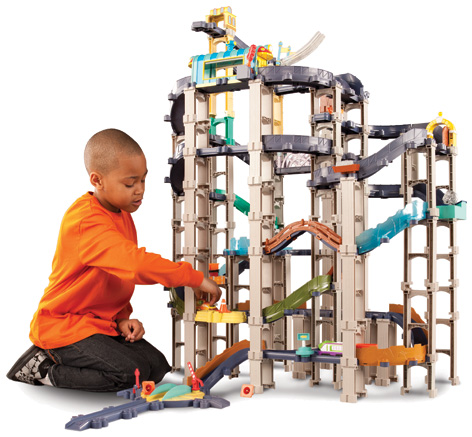 Worlds Apart, the well-known maker of pop-up tents and play houses are licenced to produce a range of Chuggington products as well as rolling out a line of Chuggington Ready Beds. HTI are very good at making all sorts of ride on toys, and they are licensed to make Chuggington branded trikes, bikes, scooters and accessories as well as a selection of Chuggington protective gear. As if this wasn't enough, Mega Brands have created a series of construction sets with Chuggington as its theme. These include playsets as well as models of all the popular engines from the series.
HERO PRODUCTS

DISTRIBUTORS
RECOMMENDED RETAILERS

Amazon
The world's most famous online retailer sells an unparalleled selection of toys.
Buy Chuggington toys now >>