Garfield Toys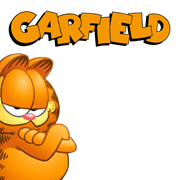 First published in June 1978, the Garfield comic strip quickly became one of the world's favourite cartoon characters. Over 2500 newspapers and magazines bought the rights to publish the humorous adventures of this popular little cat. Appealing to kids and adults in almost equal quantities, Garfield and his friends Nemal, Arlene, Odie and Pooky have been the subject of numerous soft toys over many years.
Manufacturers such as TY supply many different beanie versions, with many of the older ones commanding high second-hand prices. Other manufacturers are also involved, with Aurora World being granted a manufacturing licence in 2013. Soft toy versions of Garfield include 8", 11" and 15" varieties as well as an innovative car window style with a clever head turning feature.

Garfield has starred in his own TV cartoon shows and several films, with kids loving the adventures of this adorable orange tabby cat. Children's dressing-up outfits, plastic figurines, books, stickers and jigsaw puzzles have all received the Garfield treatment, with all products widely available through traditional and online retailers.
DISTRIBUTORS
RECOMMENDED RETAILERS

Amazon
The world's most famous online retailer sells an unparalleled selection of toys.
Buy Garfield toys now >>