Kiddimoto Balance Bikes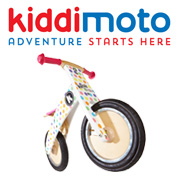 Based in Somerset and with a string of awards under its belt, Kiddimoto is a balance bike specialist that produces some of the most stylish children's bikes we've ever seen.
Designed in Britain and made from top-quality birch wood, Kiddimoto's balance bikes are designed for children between the ages of 2 and 5. The lack of pedals and stablisers means that children are encouraged to develop a proper sense of balance early on. This also allows them to progress at whatever speed they feel most comfortable with and reduces the chance of painful falls.

Kiddimoto's bikes come in a variety of colours and styles. We particularly like the Brit Pop Scooter which has a very trendy blue, red and white colour-scheme that is clearly inspired by the iconic Mod scooters of the 60s. Other styles include the Choppers, Scramblers and Superbikes - all of which come in colours to suit boys and girls. Finally there is the Heroes Collection. This is a licensed range of balance bikes which are styled on the bikes ridden by world champion motorcyclists such as Barry Sheene.
HERO PRODUCTS
RECOMMENDED RETAILERS

Amazon
The world's most famous online retailer sells an unparalleled selection of toys.
Buy Kiddimoto balance bikes now >>

Babe-equip
Wide range of baby toys and nursery equipment including travel systems.
Read more about Babe-equip >>

Jumangee Shop
A family-run business located in Greenwich.
Read more about Jumangee Shop >>