Nikko Toys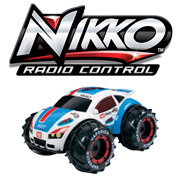 Acquired by Toy State in early 2014, Nikko is famous for its radio controlled toys that are at the cutting edge of technology. Some of their most popular toys are the off-road vehicles featuring names like Typhoon, Alligator, Aggressor and Brute. With big tyres and good ground clearance, kids can take on some of the roughest terrain with these great looking vehicles.
Nikko's preschool ranges have proved popular with little kids and are a great introduction to the grown up world of Nikko RC toys. Easier to manoeuvre and working at slower speeds, a special hand controller for little hands is perfect for learning control. Flying models is a fast growing area, and Nikko have some stunning planes and helicopters to enjoy. Indoor helicopter flying is fast becoming a big hobby, and with a voice command model to play with, Nikko RC toys are amongst the most popular.
Radio controlled boats are another of Nikko's great ranges – best used on flat rivers or ponds, they are pretty fast and stable. Digital proportional steering is an important feature of top of the range Nikko RC toys, whilst some also feature lights and sound. Whatever Nikko RC toy you choose, reliability and high quality can be taken for granted.
HERO PRODUCTS

DISTRIBUTORS

LICENCES HELD BY NIKKO
RECOMMENDED RETAILERS

Amazon
The world's most famous online retailer sells an unparalleled selection of toys.
Buy Nikko toys now >>