Olly The Little White Van Toys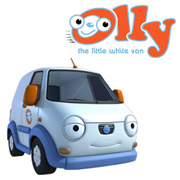 Hornby awarded the Olly toy licence
The preschool children's TV series, Olly the Little White Van, was launched on CITV in June 2011. This series was so poular that in 2015 it was announced that the funding had been secured for a further 52 episodes. The popularity of the show spread to many other countries including China, Russia and India. Hornby secured the worldwide master toy licence for this exciting show, and jigsaws were the first products available for fans of this popular series.
Manufacturing expertise in their Corgi division also helped Hornby create an assortment of die cast Olly vehicles that can be played with on a playset mat. Launched in July 2012, the popular Ollie vehicles include Olly himself, Royston, Jethro, Ivan and Bazza. Plastic push-along Olly vehicles are also available together with an infra-red controlled Olly van.
Scalextric and other licences
Not only that, Hornby also launched a special Olly the Little White Van Scalextric set designed for all the preschool fans of the show. This micro-scale set features Olly and his friend Bazza. Kids will be thrilled to know they can buy all their favourite Olly episodes on DVD thanks to a partnership with Abbey Home Media. Other licenses in the pipeline include several companies who will make more toys, gifts and clothing.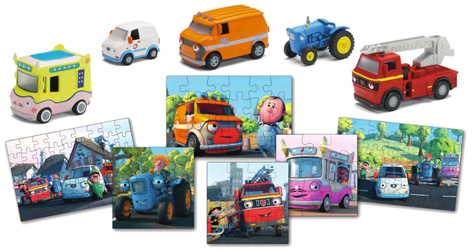 About the show
Designed to appeal to boys and girls aged 2-6, Olly the Little White Van is loosely modelled on Ford's Transit Connect and will have many different adventures during the 52 five-minute episodes. The show isn't just great sing-along fun - it also carries important messages about morality, good citizenship and road safety. Olly's voice is spoken by Jusin Fletcher MBE, the BAFTA winning TV presenter.
Olly is the hero of the show. He oozes vitality and is always eager to please. Unconstrained by rules that govern real life, he can go anywhere and do anything! His best friend and rival is an orange van called Bazza who thinks he's very smart with a white stripe down his side and three spotlights on his roof. Bazza is bad but not seriously bad - naughty is probably the right word for him!
Other characters include Ivan the ice-cream van, Jethro the tractor, Cruz the aeroplane and Royston the fire-engine. Everyone's favourite female character is sure to be Tasha. She's an attractive purple sports car with lots of ambition and bucket loads of glamour. With Hornby on board, Olly the Little White Van toys are in great demand.
RECOMMENDED RETAILERS

Amazon
The world's most famous online retailer sells an unparalleled selection of toys.
Buy Olly The Little White Van toys now >>