Plasticine Toys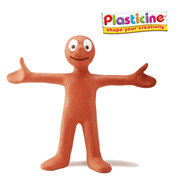 Plasticine is one of the world's favourite modelling compounds, and although invented in 1897 by William Harbutt in England, it is more popular than ever. Although mainly classed as a toy, Plasticine is probably best known as the material used to make the famous Wallace and Gromit characters created by Aardman Animations.
Plasticine's unique secret mixture does not dry out when removed from the packet, cannot be hardened by heat, and is available in many different colours. Kids love the feel and texture which encourages them to make a variety of Plasticine toys that can be demolished and rebuilt as something completely different. As an arts & crafts product, Plasticine competes with other popular modelling products such as Fimo, Disney Dough and Play-Doh on retailers shelves, but its unique formulation makes it one of the favourites.
Many Plasticine fans will remember James May's Plasticine garden which was exhibited at the Chelsea Flower Show in 2009. With a stunning selection of trees, flowers, vegetables and other plants, the garden was presented with a specially commissioned 'People's Choice' award.
Available in many different pack sizes and prices, Plasticine toys are produced by the million every year and can be bought with moulds and cutting utensils to help children make different shapes and coloured effects. There's even an activity bucket and neon colours to help children create new and exciting designs and effects.
DISTRIBUTORS

RECOMMENDED RETAILERS

Amazon
The world's most famous online retailer sells an unparalleled selection of toys.
Buy Plasticine toys now >>