Rainbow Play Equipment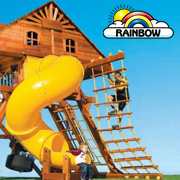 Well established in the USA, Rainbow Play Systems offer one of the most amazing selections of climbing frames, playhouses and trampolines distributed from four UK bases. Whilst Rainbow focus on the commercial sector for most of their sales, a domestic range also ensures that children and their friends can be kept happy and safe playing in a garden environment, for hours on end. Using mainly cedar and redwood timber for high strength and longevity, Rainbow Play Systems offer their customers almost unlimited permutations of designs that include tented areas, swings, slides and ladders.
Their knight's castle or Victorian mansion playhouses are superb works of art that not only look fantastic but are fully functional too, and kids just love the specially themed beds or furniture like toy boxes and bookcases. Whilst their trampolines may not be the cheapest option, Rainbow Play Systems claim that their 'Springfree' trampolines and are safer, and will outlast those of their competitors.
Whether you are buying a climbing frame, playhouse or trampoline for the garden, hotel, pub or local park, Rainbow Play Systems will probably have exactly the solution you are looking for; with a wide range of prices to suit all budgets and the well accepted benefits of kid's healthy outdoor play, they can also offer safety matting to help minimise injury from the occasional inevitable impact.
RECOMMENDED CATEGORIES

Climbing frame shops sell toys that provide durability, strength and quality.
Visit the Climbing Frames category >>

A child's bedroom can have matching cupboards, wardrobes and beds.
Visit the Furniture category >>
Outdoor toys and games are the perfect way to keep your kids fit and active.
Visit the Outdoor category >>

Kids love pretend play with a selection of playhouses made of plastic or wood.
Visit the Playhouses category >>

Sides are probably the most popular type of toy a child can own.
Visit the Slides category >>

The humble swing can now be quite a sophisticated piece of garden play equipment.
Visit the Swings category >>

Keep your toys safe and clutter-free with a choice of excellent toy boxes.
Visit the Toy Boxes category >>

Trampolining is great fun and offers kids a huge number of health benefits.
Visit the Trampolines category >>