The Toymaster May Show in Harrogate
No comments yet. Be the first.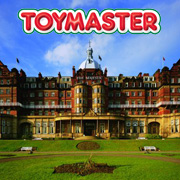 The 2022 annual Toymaster May Show took place on 17th-19th May 2022.
Despite a severe fire in 2010 which forced a change of venue, Toymaster's May show takes place at the Majestic Hotel; their "spiritual home". The show provides an opportunity for suppliers to meet buyers, and for independent retailers to meet with Toymaster decision-makers and other group members.
Since the demise of the rival buying group, Youngsters, in 2008, Toymaster's Show is open to members and non-members. It attracts numerous major toy suppliers including Tomy, Lego, Vivid Imaginations and many more.

Barceló Majestic Hotel Address
Springfield Avenue
Ripon Road
Harrogate
North Yorkshire
HG1 2HU
Tel: 01423 700 300
Harrogate is also host to the Harrogate Nursery Fair that takes place annually.