Toy Trade Fairs and Children's Shows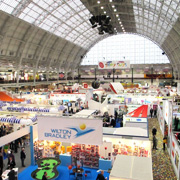 Every year, buyers from around the world descend upon their nearest toy fair to meet with suppliers and see the new toys and designs for the forthcoming year. New toys are the lifeblood of the industry, and manufacturers are always keen to show off their latest wares.
Most fairs are strictly trade-only events and many buyers will attend more than one fair to get a broad global picture of how the inventors and innovators are shaping future trends and fashions. The huge cost to the suppliers of exhibiting at these fairs, means that some are concentrating on just three or four events, and relying on the buyers to travel to them.
Many UK toy buyers will travel to the Nuremberg Toy Fair in Germany, which is a truly European event with fantastic facilities and great German hospitality. Coupled with New York, Hong Kong and Australia, these four can be regarded as the premier venues for serious toy buying. The buyers are usually keen to replenish stocks, exchange views on trading conditions and meet important company executives that always attend these events. Each fair also tends to have their own award ceremonies that recognise excellence within the industry.
MAJOR UK TOY FAIRS INCLUDE:

Held at the end of January, Toy Fair is held at London's Olympia Exhibition Centre and is an vital place for buyers to gather after the Christmas rush has subsided.

Held in May, Toymaster's annual show takes place at the Majestic Hotel in Harrogate.

Held in March and October each year, the Harrogate Nursery Fair is the primary trade show in the UK for the nursery industry.

Formally known as Play-room at the Park, followed by Independent Toy & Gift Show, this show has been running since 2008.

This is a consumer show that enables toy companies to promote, trial, and engage with their end customers.
Name: Australian Toy, Hobby and Licensing Fair
Location: Melbourne Exhibition Centre, Melbourne
Month: March
Name: ABRIN Brazilian Toy Fair
Location: Norte Expo Centre, Sao Paolo
Name: Canadian Toy and Hobby Fair
Location: Metropolitan Toronto Convention Centre, Toronto
Month: January
Name: The Middle East Toy Fair
Location: Dubai World Trade Centre, Dubai
Month: March
Name: Paris International Toy Fair
Location: Salon International du Jouet, Paris
Month: January
Name: Spielwarenmesse International Toy Fair
Location: Nurnberg Exhibition Centre, Nuremburg
Month: February
Name: Hong Kong Toys & Games Fair
Location: Hong Kong Convention & Exhibition Centre
Month: January
Name: Salone Internazionale del Gioattolo
Location: Milan Exhibition Centre, Milan
Month: January
Name: International Tokyo Show
Location: Tokyo Big Sight, Tokyo
Month: June
Name: Jugueti Expo International
Location: Exhibimex Exhibition Centre, Col Roma
Name: Toy Fair
Location: Moscow Crocus Expo International Exposition Centre, Moscow
Name: Shanghai Toy Expo
Location: Shanghai New International Expo Centre, Shanghai.
Month: October
Name: American International Toy Fair
Location: Jacob K Javits Convention Centre, New York
Month: February
Name: Western States Toy and Hobby Show
Location: The Fairplex, Pomona, California
Month: March