Toy Model Boats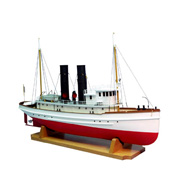 As a hobby, model making is still a popular activity in spite of all the modern electronic games distractions. The construction of model boats is one of the most popular sectors of this relaxing pastime. The most complex wooden model boat kits literally have to be assembled plank by plank, and can often take months to complete by the time rigging and painting has been finished.
Toy model boats don't have to be this complex however, with many highly detailed plastic construction kits available, that once painted are almost works of art. From vintage sailing ships like HMS Victory to the most modern naval vessel such as HMS Ark Royal, model kit suppliers make them all. Harbour tugs, lifeboats, fishing trawlers, canal boats and speed boats are all popular subjects.
A few specialist manufacturers can supply ready-made toy model boats, but these are often kept in their display cases by a growing army of collectors who prefer to 'look' rather than 'use'. Iconic brands Airfix and Revell can supply almost any type of plastic boat kit at very reasonable prices, but builders of the larger wooden kits must be prepared to pay several hundred pounds.
FEATURED RETAILERS

The world's most famous online retailer sells an unparalleled selection of toys.
Visit Amazon Now >>