Toy Model Buses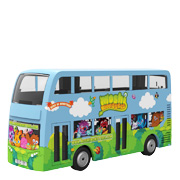 With such a large number of different buses and corporate markings seen on Britainís roads, itís almost impossible for the model suppliers to keep up to date with all of them. Many are strictly regional of course, and sell in small numbers to bus collectors in that area, although fans of a particular bus type will want every variation ever produced. Corgi is probably the best known manufacturer, and some of their early discontinued models sometimes sell for hundreds of pounds.
By limiting some editions to just a few thousand pieces each with a numbered certificate, the rarity value becomes greater, although most will never be played with, and just admired in a glass cabinet. EFE are another well known model bus maker and between them and Corgi they probably make almost every type known. Itís not just models of vintage buses that are sought after. Replica models of Harry Potterís double decker bus or even a bus painted in the newest London Transport livery are in big demand.
This popular model category isnít just limited to buses however, with coaches and trams being popular subjects too. This area is well covered by the Matchbox ĎModels of Yesteryearí ranges. The most popular scale is 1/76, although there are many examples of both larger and smaller scales being used for specific applications such as ĎNí gauge railway layouts.
FEATURED RETAILERS

The world's most famous online retailer sells an unparalleled selection of toys.
Visit Amazon Now >>