Toy Model Trains & Train Sets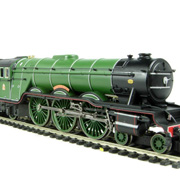 Think of toy model trains and train sets, and most people will think of Hornby. This iconic brand has been around since 1927 when Frank Hornby produced his first 'O' gauge tinplate clockwork trains. The forerunner of the modern electric train system was first made in 1938 after Hornby had died, and has undergone many transformations and improvements since then. The modern Hornby company has since swallowed up several European train makers such as Bassett-Lowke.
With tremendous attention to detail that has been enabled by modern manufacturing techniques, toy model trains have never been more reliable or realistic. There's a vast choice of model engines, rolling stock and accessories like buildings and stations. In fact, the toy model train enthusiast has never had it so good. Some railway steam engines are even fitted with miniature smoke cartridges for extra realism, and larger scale models can even be powered by steam from a working water tank and boiler.
Kids are introduced to trains at an early age with many companies making wooden railway systems featuring characters like Thomas and Friends. You can find out more about thoses in our toy trains section. Many train hobby fans like to construct much of the detailed scenery that is a part of the joy of owning a model railway set. Several firms produce kits of fencing, platforms, bridges and tunnels that can be painted according to the period that's being portrayed.
FEATURED RETAILERS

The world's most famous online retailer sells an unparalleled selection of toys.
Visit Amazon Now >>