Toy Model Cars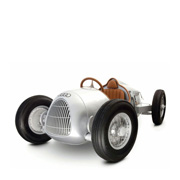 The term 'model car' usually refers to a scale model representation of a car or other similar powered vehicle. Sometimes this is taken to mean a factory made die-cast car which has been fully assembled and painted, and usually presented in a glossy box with a window to show the model car at its best.
Alternatively a construction kit which must usually be glued together and painted to obtain the desired realistic effect, can also be known by this description. Italian companies Burago and Maisto make a superb selection of ready made die-cast model cars, and also package some of them in kit form for final assembly at home. Minichamps are world renowned for the amazing detail that they put into their replica Formula 1 cars in a variety of scales.
Probably the best known maker in the UK of die-cast model car was the Dinky Toys company. Although production finished many years ago, some of their models in original condition can command extremely high prices by collectors worldwide. Modern production methods of casting and painting means that manufacturers can achieve incredibly realistic detail on their model car, even on the lowest price versions. Corgi have take a large slice of the market in this respect and their model cars are works of art.
Construction kits from companies like Airfix, Tamiya and Revell have a high detail of moulding and will require a considerable amount of skill by the model maker to achieve a really high quality finish. A model car assembled in this way, will of course provide many hours of pleasure in the making, before seeing the final result. The normal material used in construction is polystyrene, but metal is also used for certain parts. Radio controlled kit model cars are masterpieces of miniature engineering, and young people can learn a vast amount about real car construction and parts by embarking on a project to build one.
FEATURED RETAILERS

The world's most famous online retailer sells an unparalleled selection of toys.
Visit Amazon Now >>
OTHER RETAILERS