Dr Zigs Extraordinary Bubbles
(1 review)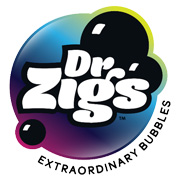 Address
Bubble HQ, Vaynol Estate, Bangor, Gwynedd, LL57 4BP
Telephone
01248 511395
Contact
Send an email to Dr Zigs Extraordinary Bubbles now >>
About
Dr Zigs Extraordinary Bubbles is an award winning and growing company based in Bangor in North Wales. The business makes and sells bubble kits that provide awesome bubble entertainment. The kits allow you to make truly huge bubbles, with even the youngest of children creating wonderful bubbles.
The business provides bubble kits and online bookings for entertainment, as well as at the bubble shops in Betws-y-Coed and in Bangor. All of the kits are made by hand using traditional materials for the bubble wands. As an ethical, sustainable and environmentally sound business, all materials are sourced to match. In order to give everyone the opportunity to share in the giant bubble experience, the website is full of amazing images, a video blog and bubble facts.
This online shop offers next day delivery within the UK as well as the opportunity to send the bubbles all over the world. The friendly and sharing company helps many charitable causes both in the UK and abroad through the 'Bubbles not Bombs' initiatives. This means the bubbles from Dr Zigs are that bit extra special. Not only are the bubbles truly extraordinary but you know they are doing good somewhere else in the world.
Dr Zigs Extraordinary Bubbles is a Gwynedd toy shop that specialises in bubble machines.