My Tiny Fairy Door
No customer reviews yet. Be the first.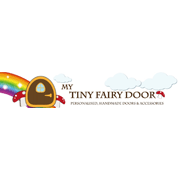 Address
My Tiny Fairy Door, 10 Stretton Close, Prenton, Wirral, CH43 0XG
Telephone
0844 357 2338
Website
www.mytinyfairydoor.co.uk
About
My Tiny Fairy Door offers a magical selection of unique, bespoke fairy products and gifts designed to intrigue children's (and adults) imaginations.
Each product found on the website has been lovingly hand made within their UK magic workshop and created using only high grade materials and to a exceptional standard of craftsmanship.
Their mystical selection of custom and bespoke gifts include fairy doors for outdoor and indoor use, fairy gardens for ornamental decoration and miniature, fairy furniture as well as miniature accessories with the range continuously growing.
My Tiny Fairy Door provides customers worldwide with a enchanting experience. Their cute products are suitable for children over the age of 3 years and are to be used for ornamental purposes only. If you are looking for a magical gift giving experience with a difference, then look no further.
My Tiny Fairy Door is a Merseyside toy shop that specialises in gifts & gadgets.