Brookite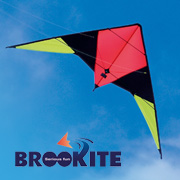 Proud of the fact that a Brookite kite hoisted a radio aerial aloft so that Marconi could make the first transatlantic radio broadcast in the early 1920s, the modern company is still making kites and accessories of the highest quality. Situated in Okehampton on the edge of Dartmoor where windy weather is quite frequent, they have the ideal conditions to try out all of their latest designs.
Far more than just a kite company though, this family run business also distributes an impressive selection of other outdoor toys. Hobby horses, sailing boats, skateboards, spinning tops and a colourful selection of windsocks are among just a few of these products. As distributors for the Aerobie range of throwing discs and rings, these toys perfectly complement the kites as a plaything on non-windy days.

Brookite's educational science toys are a popular choice for parents wanting some quality learning kits that can teach their kids about plants, bugs or ants. Binoculars and other optical toys as well as gyroscopes and discovery sets are also included in the ranges that are produced by Navir and Globus.
Brookite makes kites in all categories from the most simple traditional single-line box and cutter shapes to some of the strongest power kites available – strictly for adult males only! It's in the category of dual-line sports kites that the market has seen a huge transformation in the way kites are used. Wide open moorland, beaches and parks are being the safest and best places to use these awesome kites that in skilled hands can perform the most amazing stunts and tricks. Brookite kites are some of the strongest around - and best of all, every one is guaranteed to fly!
LICENCES HELD BY BROOKITE KITES
RECOMMENDED RETAILERS

Amazon
The world's most famous online retailer sells an unparalleled selection of toys.
Buy Brookite Kites now >>