Feber Toys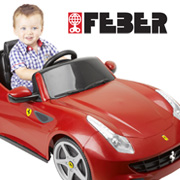 Feber toys are owned and distributed by Famosa in the UK. The original company was founded in Alicante in Spain where the products are still manufactured. The business was purchased by Famosa in 2005 and expanded the manufacturing to a second factory in Monterrey in Mexico to cope with worldwide demand.
Feber's range of battery powered ride-on are amongst the best in their class. Jeeps, cars, 4x4 vehicles, motorcycles and quad bikes are all powered by sealed re-chargeable batteries. The vehicles are made in a range of sizes, so there is always something to suit all junior members of the family from 1-7 years old. Aggressive styling, smart graphics and excellent build quality are trademarks of all Feber toys which also represent excellent value for money.

The motorbikes look just like the real thing - and some of the racing cars even have Ferrari or Disney Cars movie branding. 12v and 6v battery systems give Feber toys terrific power and strength, and for safety all vehicles can be re-charged without removing the battery.
In addition to their famous ride-ons, Feber makes a terrific range of blow-moulded plastic playhouses and climbing frames that can be left out all year round. All provide a perfect way for parents to encourage their children to develop their social and imaginative skills as well teaching them to become independent.
HERO PRODUCTS

DISTRIBUTORS

LICENCES HELD BY FEBER
RECOMMENDED RETAILERS

Amazon
The world's most famous online retailer sells an unparalleled selection of toys.
Buy Feber toys now >>