Famosa Toys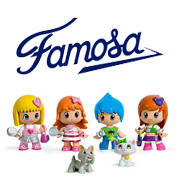 Spain's leading toy company, Famosa, has been making toys since 1957. As a market leader in European countries such as Italy, UK and France, the company also has good visibility in the USA and Mexico.
Their manufacturing and distribution facilities are located in Monterrey in Mexico, and Alicante in Spain from where they supply their toys to retailers in over fifty countries around the world.
Whilst Famosa sells an incredibly varied range of products - covering everything from outdoor toys to arts & crafts products - it's the company's licences with major brands such as Disney Cars, My Little Pony, Ferrari and Mickey Mouse Clubhouse where many of their best-selling products lie.
Famosa's ranges are particularly strong on dolls and soft toys with important collections like Nenuco being amongst the favourites. Constant product development ensures that the company refreshes these selections on a regular basis.

The company's Pinypon range is a collection of dolls with interchangeable heads, hair, bodies and accessories to let little girls' imaginations run wild. A selection of vehicles such as camper vans and planes add to the play value of this popular range.
Famosa's acquisition of Feber in 2005 boosted their presence in international markets. Children love the stunning battery powered vehicles for which they are so famous. Sports cars, motorcycles and 4x4 vehicles are all included for indoor or outdoor play.
In October 2014 Famosa announced that Posh Paws International would be responsible for the distribution of all of the company's plush products including Transformers, Furby and My Little Pony. The partnership was all part of Famosa's long-term aim to be a major player in the licenced plush category.
HERO PRODUCTS
LICENCES HELD BY FAMOSA
RECOMMENDED RETAILERS

Amazon
The world's most famous online retailer sells an unparalleled selection of toys.
Buy Famosa toys now >>

Kiddimax Character Toys
A UK-based website that sells character toys and other character-based products.
Read more about Kiddimax Character Toys >>