Light Strike Guns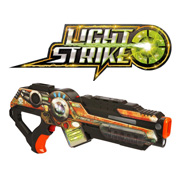 The clever designers at WowWee have another hit on their hands with Light Strike - guns that work on a familiar Laser Tag system. These playthings have some super-cool, unique features such as 'biometric finger print identification' for each individual user!
The sophisticated electronics on each Light Strike gun enables up to four teams of players to compete at once with no limit of the number of players in each team. Kids can even customise the colour light scheme on each toy as well as controlling handicaps for beginners or experts.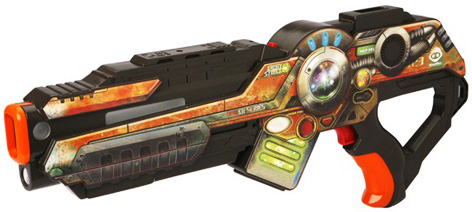 A variety of styles are available that include pistol type Light Strike toys and awesome looking Assault Strikers. A series of accessories are available to improve performance. What kid wouldn't want to add the machine gun bipod with rapid fire capabilities, or the 'Refractor Launch System' that replicates multiple hits via a grenade style delivery system.

For single play there's even a Light Strike target, and the Sniper Scope increases your accuracy and range. If that's not enough, the Enemy Scanner will literally help you find the target with your Light Strike toy gun in low light conditions and help to make that all important electronic hit! Although the toy gun market is pretty crowded with weapons from Xploderz, Max Force and Nerf all vying for attention, Light Strike is the only non-projectile gun - and that is a winning advantage.
RECOMMENDED RETAILERS

Amazon
The world's most famous online retailer sells an unparalleled selection of toys.
Buy Light Strike toys now >>