Doc McStuffins Toys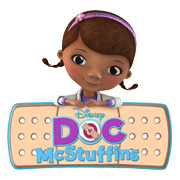 Showing on Disney Juniors TV channel, Doc McStuffins follows the adventures of a 6 year old girl called Dottie McStuffins who can mend broken toys with lots of help from her soft toy animal friends. She really wants to be a doctor when she's older, so her stethoscope has magical powers that bring all her friends to life when she puts it on.
Doc McStuffins toys from Flair include role play items, plush toys, dolls and playsets that feature the best bits from the shows. Meanwhile, Posh Paws supply the soft toys that accompany the show. These come in three different sizes - 8", 10" and 20". Also on-board ist top jigsaw manufacturer Ravensburger with a range of children's jigsaws. Kids can also buy doctors bags, check-up sets and action figures of all the main characters.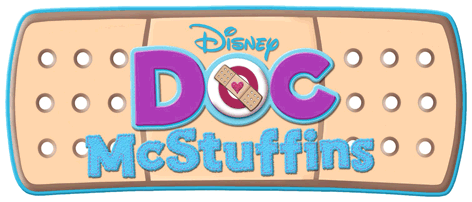 Other characters in the show include Mr. McStuffins and his wife Dr. McStuffins, Squeakers, and Donny McStuffins. A huge number of other characters feature in the TV shows, and kids should watch out for toys of Boppy, Robot Ray, Star Blazer Hero and Awesome Guy as well as dozens of others.
In line with their policy of constant product development, Flair introduced a new hero line called the Clinic Playhouse set. This multi level toy building includes a patient's clinic on the ground floor complete with an examination table and reception area. Upstairs, Doc has her own bedroom space where she can unwind after a busy day! Hearts A Glow soft toys and Sticker Scratcherz also joined a revised selection of Doc McStuffins mini figures.
The Pet Vet Doc McStuffins range saw a new element of play added to this already popular series of toys. Doc gets a specially designed Vet Case containing everything she needs to treat her pet animal patients as well as a special Vet Desk and Pet Care Centre. Fans of the show are sure to want the hero product Vet Doll that comes with a range of interactive features.
HERO PRODUCTS

DISTRIBUTORS
RECOMMENDED RETAILERS

Amazon
The world's most famous online retailer sells an unparalleled selection of toys.
Buy Doc McStuffins toys now >>