Southampton Toy Shops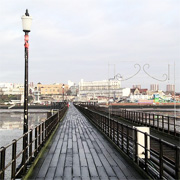 Southampton is a large city with an equally large number of toy shops to choose from. Pretty much every kind of toy shop is available here - from the large chain stores like The Disney Store, Toys 'R' Us and Mothercare - right down to independent niche shops like Runner Beans.
This particular Southampton toy shop specialises in toys from yesteryear - and they stock some great ranges of Russian dolls, traditional board games and wooden toys for young children. Also worth checking out is Clementine Toys on Mousehole Lane and Just Add Imagination. This store is a specialist Southampton toy & model shop that prides itself on great customer service and friendly advice.
POPULAR RETAILERS
20 Harbour Parade, Southampton, Hampshire,
0845 165 7182
Unit SU52, West Quay, Southampton, Hampshire, SO15 1QD
02380 631334
Unit 17, The Marlands Centre, Southampton, Hampshire, SO14 7SJ
02380 222543
83 Above Bar Street, Southampton, Hampshire, SO14 7FG‎
023 80639864‎
24 Hanover Buildings, Southampton, Hampshire, SO14 1JU
023 8022 4761
Queens Buildings, Queensway, Southampton, Hampshire, SO14 1NH
23 East Street, Southampton, Hampshire, SO14 3HG‎
023 80331962‎
Unit 6, west Quay Retail Park, Southampton, Hampshire, SO15 1BA
02380 635768
Unit 1, Budds Lane, Greatbridge Business Park, Romsey, Southampton, SO51 0HA
01794 830005
16/18 Westminster House, Potters Walk, Basingstoke, Hampshire, RG21 7GQ
01256 814606
OTHER RETAILERS
Bridge Road Toys

55 Bridge Road, Southampton, Hampshire, SO19 7GR
02380 420099
D H Game

Rooksgrove Farm, Warnford, Southampton, Hampshire, SO32 3LJ
01962 771385
Gamestation

82 Above Bar Street, Southampton, Hampshire, SO14 7DT
023 80388560‎
Hobby Stores

61-63 Bernard Street, Southampton, Hampshire, SO14 3AB
0238 033 1859
Just Add Imagination

4 High Street, Botley, Southampton, SO30 2EA
01489 781177
The Old Toy Shop

50 Northam Road, Southampton, Hampshire, SO14 0PB
023 80236100