Tyne and Wear Toy Shops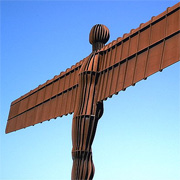 Narrow your results: browse for toy shops in Tyne and Wear towns:
Gateshead, Newcastle, South Shields, Sunderland.
This is a metropolitan county that takes its name from the rivers Tyne and Wear, with Newcastle upon Tyne as the major city within the region. There are several major shopping centres here with a huge mix of multiple and independent retailers. Toy shops can be found in several areas of the region, and they specialise in toys, games, hobbies and associated gift products. Notable independents include Joplings in Sunderland, plus Kid and You in Gosforth.
There are many important sights in the region with the Angel of the North and the Gateshead Millennium Bridge as two of the most famous. Several other large towns are Gateshead, North Shields, Whitley Bay, Jarrow, Washington and Elswick, plus many others too numerous to mention. All these centres have plenty of high quality toy shops, and you're certain to find whatever toy or game you are looking for in any of these areas.
POPULAR RETAILERS
48 Low Friar Street, Newcastle, Tyne and Wear, NE1 5UE
0191 2619908
39 Northumberland Street, Newcastle, Tyne and Wear, NE1 7AF
0191 232 7755
10 The Parade, The Metro Centre, Newcastle, Tyne and Wear, NE11 9YJ
019 1460 2959
59 Grainger Street, Newcastle, Tyne and Wear, NE1 5JE
0191 261 9173
17 Newgate Street, Newcastle, Tyne and Wear, NE1 5RE
0191 232 2418
Belvedere Retail Park, Belvedere Parkway, Newcastle, Tyne and Wear, NE3 2PA
0191 214 7128
Unit 12, Team Valley Shopping Park, Gateshead, Tyne and Wear, NE11 0BD
Unit 1.72, 69 Russell Way, Gateshead, Tyne and Wear, NE11 9YG
0844 693 1471
70 Sunderland Road, South Shields, Tyne and Wear, NE34 0SW
01914 206411
OTHER RETAILERS
Angel's Delight

170 Prince Consort Road, Gateshead, Tyne and Wear, NE8 4DU
0191 478 1364
Gamestation

112 Russell Way, Metrocentre, Gateshead, Tyne and Wear, NE11 9YZ
0191 460 8356‎
Joplings

John Street, Sunderland, Tyne and Wear, SR1 1DP
01951 510 2105
Kid and You

77 High Street, Gosforth, Newcastle, Tyne and Wear, NE3‎
0191 285 8877‎
Sid Wilson

8 Willow Way, Ponteland, Newcastle, Tyne and Wear, NE20 9RJ
01661 824356
The Hobby Shop

5 Frederick Street, South Shields, Tyne and Wear, NE33 5DY
0191 425 0909
Top Gun Models

190 Southwick Road, Sunderland, Tyne and Wear, SR5 2AG
07595 774387
Toy and Computer Shop

38 Blandford Street, Sunderland, Tyne and Wear, SR1 3JH
0191 565 5196
Toy Town

53 Garden Walk, Metrocentre, Gateshead, Tyne and Wear, NE11 9XZ
0191 460 4777
Toytown Express

4 Queen Street, South Shields, Tyne and Wear, NE33 1HL
0191 423 3049
Toyworld

25 Royal Quays Factory Outlets, Coble Dene Road, North Shields, Tyne and Wear, NE29 6DW
0191 257 3333
Wish 4 Toys

11 Denmark Street, South Shields, Tyne and Wear, NE33 2LR
0191 497 5004