ADHD Toys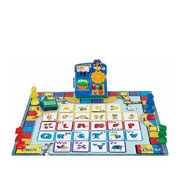 Not all children that suffer from Attention Deficit Hyperactivity Disorder (ADHD) share the same symptoms - but the general characteristics of poor concentration, hyperactivity and learning difficulties, mean that it is possible for parents and relatives to identify different types of toys that may be particularly well-suited for children with this behavioural disorder.
Certainly the most important thing to consider when shopping for suitable playthings for children with ADHD is to ensure that you are choosing toys that don't conflict with what the child can comfortably manage. Although there is no such thing as an "ADHD toy", experts are able to identify different types of toys that are likely to be particularly useful for the specific needs of children with ADHD.
Many shop have trained staff on hand to help guide you in your selection. Toys that help children focus their attention, gain self-confidence and to learn how to appropriately interact with other children are particularly important things to consider when shopping for toys that children with ADHD can enjoy.
FEATURED RETAILERS

The world's most famous online retailer sells an unparalleled selection of toys.
Visit Amazon Now >>
OTHER RETAILERS