Down's Syndrome Toys and Dolls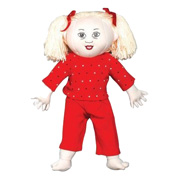 You'd think dolls would be considered fairly innocuous playthings, but the British media got very hot under the collar in 2008 about the availability of a new type of doll. The Guardian reported on a lady called Helga Parks who was doing some very good business selling her Down's syndrome dolls. These shared visual characteristics of a child with the syndrome. The very thought of this led to a small but vocal minority to brand the dolls a "sick joke" whilst plenty of others (including many parents of children with Down's syndrome and professionals who worked with Down's children) welcomed the dolls' introduction.
Some feared that toys representing Down's syndrome children would do little more than emphasize the differences between a child with and without the syndrome. There was also some concern that these dolls would become a figure to make fun of. It doesn't seem that either of these fears have come true. In fact, sales of these dolls have risen rapidly in recent years. Not only this, you now won't have trouble finding "blind" dolls, dolls with hearing aids, dolls in wheelchairs and even dolls that are undergoing chemotherapy, something that would have been almost unthinkable in the not so distant past.
As with absolutely any product, the wants and needs of the child you are buying for is the overriding concern. Plenty of Down's syndrome children will want to continue playing with their Barbie and Bratz dolls whilst others may welcome these dolls into their playtime. There are however, a growing number of toy companies that appreciate the fact that some children can connect best with toys and dolls that look like them. We've seen exactly the same shift with ethnic and multicultural toys, and these niche products have already made their way onto the shelves of more mainstream toy retailers.
FEATURED RETAILERS

The world's most famous online retailer sells an unparalleled selection of toys.
Visit Amazon Now >>