Toys for Children with Disabilities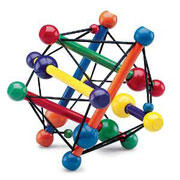 Whilst there are certain toys that are conceived specifically for children with disabilities, much of the time, friends, families and carers will find that many of the toys that can be found in any High Street or online store are equally as suitable. Some shops have staff that can give specific advice when buying toys for children with physical or learning disabilities.
Online retailers often categorise toys in this way on their website which makes the selection that much easier. As with any kind of disabilty, it's the needs of the individual that should come first and foremost, as difficulties with fine motor skills, gross motor skills or spatial awareness are very particular to the child and will therefore require different toys.
If ever in doubt, it's always worth contacting the shop directly before buying the toy to discuss specific requirements. For example, if you are buying for a child that needs to develop or practise particular skills or knowledge, good online retailers will always be able to guide you in the right direction of toys that will be most suitable for your child's particular disability.
FEATURED RETAILERS

The world's most famous online retailer sells an unparalleled selection of toys.
Visit Amazon Now >>
OTHER RETAILERS