Autism Toys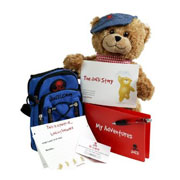 Autistic children have very wide-ranging needs, but the general characteristics of having difficulty with social communication, interaction and imagination, does mean that it is possible to identify a broad selection of the best toys for children with Autism or Asperger syndrome.
The National Autistic Society is the first port of call for anyone wanting to know more about this lifelong developmental disability and to get a feel for what kind of toys may be suitable. Although there is no such thing as an "Autistic toy", the NAS has compiled a very useful list of toys, games and activities that can often be popular amongst children with Autism. This includes sensory toys with a specific visual interest (bubbles, shape-sorters, colouring kits), physical toys (swings, sandpits, rocking horses) and educational games to help interaction with other people (skittles, Ludo, dancing games).
Ultimately, the specific needs of the child you are buying for is the main concern when looking for Autistic toys, and that information can only be obtained from their parents or carers. Most of the shops that sell these types of toys also have trained staff on hand who can guide customers towards the best product for your child's needs.
FEATURED RETAILERS

The world's most famous online retailer sells an unparalleled selection of toys.
Visit Amazon Now >>
OTHER RETAILERS