Dyspraxia Toys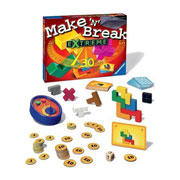 This developmental disorder has a wide range of syptoms that are loosely based around not being able to make the body do what the brain wants it to do. Symptoms include difficulties in forming ideas, motor-planning and execution. Children with this disorder are therefore greatly helped by having access to toys that are specifically designed to help with the symptons of Dyspraxia.
As with most other kinds of special needs, children with Dyspraxia often don't require toys that are any different to the ones that you can find on any High Street. Instead, it is often the choice of toy which has the greatest impact on whether it will be suitable for a child with Dyspraxia.
Lots of toy shops are particularly well clued-up when it comes to choosing Dyspraxia toys, and a quick phone call to some of their trained staff will almost certainly help point you in the right direction. Whether you are looking for help to find toys suited to helping with a child's speech/language, motor control, coordination or spatial awareness, you should find these retailers helpful.
FEATURED RETAILERS

The world's most famous online retailer sells an unparalleled selection of toys.
Visit Amazon Now >>
OTHER RETAILERS