Children's Toy Ambulances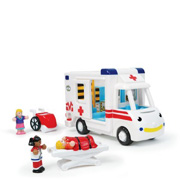 Whilst toy ambulances may not have the popularity of fire engines, there will always be a place for emergency service vehicles in any toy chest. The fact that ambulances are often seen racing to help someone in need of medical treatment makes them an obvious choice for role play scenarios. Extra accessories such as the paramedic, patient and stretcher also help children to engineer stories as they play and maybe even pick up some first aid tips as they go along!
Toy ambulances can be introduced to children at any age. For the very young toddlers there are some chunky pull-along versions - and as they get older there are some superb models made by the likes of WOW Toys and Duplo. Model companies like Corgi make scale replicas of ambulances from other countries or from years gone by, whilst LEGO make a number of ambulance construction sets, many of which have flashing lights, moving parts and various other accessories.
FEATURED RETAILERS

The world's most famous online retailer sells an unparalleled selection of toys.
Visit Amazon Now >>
Other categories in our
Cars & Vehicles
section:
Boats
,
Buses
,
Cars
,
Fire Engines
,
Helicopters
,
Lorries
,
Planes
,
Police Cars
,
Submarines
,
Tractors
,
Trains
.