Toy Boats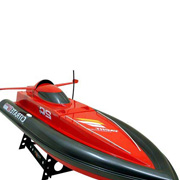 Kids are first introduced to all sorts of floating objects at bath time, and toy boats are some of the most popular of all toy vehicles through all age groups. Those first plastic toy boats are just as likely to get sunk in the bath or thrown at a sibling at the other end! The fascination of floatation continues throughout childhood, and many adults will remember with fondness their first Sutcliffe clockwork boat that was made almost entirely of metal. These could be used in ponds, still flowing rivers or purpose built boating lakes where kids still have so much fun using their latest toy boat.
There are almost too many toy boat manufacturers to mention, although some with a difference are those made by Le Toy Van and Plan Toys. These are actually wooden non-floating models and are great for pushing around the floor during pirate play time! Wooden toys of Noah's Ark are extremely popular too, especially those made by Lanka Kade that also include a selection of animals and characters to fit in them.
As children get older they may want to try using a radio-controlled toy boat. Some of these are very fast and require considerable skill to use them without crashing or sinking. Companies like Playmobil and Lego also make a terrific selection of toy boats, some that float and others that can be used as floor toys. Whether kids want a traditional toy sailing boat made by Skipper Toys, clockwork boats, bath boats or dozens of other types, there's a number of toy shops that can help you find what you want.
FEATURED RETAILERS

The world's most famous online retailer sells an unparalleled selection of toys.
Visit Amazon Now >>
Other categories in our
Cars & Vehicles
section:
Ambulances
,
Buses
,
Cars
,
Fire Engines
,
Helicopters
,
Lorries
,
Planes
,
Police Cars
,
Submarines
,
Tractors
,
Trains
.