Toy Lorries and Trucks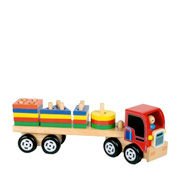 What little boy doesnít want to own a toy lorry? The endless fascination with these giants of the roads can also be carried through into adulthood where the interest is more on spotting different liveries, names or truck types. A kidís very first toy lorry is likely to be a plastic or wooden version with nice rounded edges for safe play, but as they get older realism is more important, and popular Corgi or Matchbox die-cast toy lorries are more likely to be the answer.
These basic reproductions of painted lorries with companyís adverts on the side are meant to be played with, and should not be confused with the more detailed and sophisticated Corgi model lorries that are often never unpacked from their boxes, or else spend all their life behind glass in a display cabinet . At the other end of the scale thereís companies like Bruder and Playmobil that make big chunky plastic toy trucks and lorries with lots of working features like opening doors, tipping action or trailers that unhitch from the cab.
Sophisticated radio controlled toy lorries are popular too, and modern electronics means that many other working features can be added to them. Things like working headlights and indicators, real truck engine sounds and fully proportional steering are pretty normal features. Whatever type of toy lorry your children wants, you should be able to find a good selection at these listed toy shops.
FEATURED RETAILERS

The world's most famous online retailer sells an unparalleled selection of toys.
Visit Amazon Now >>
Other categories in our
Cars & Vehicles
section:
Ambulances
,
Boats
,
Buses
,
Cars
,
Fire Engines
,
Helicopters
,
Planes
,
Police Cars
,
Submarines
,
Tractors
,
Trains
.