Toy Helicopters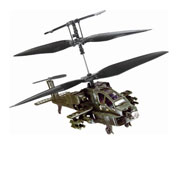 Helicopters have fascinated people ever since they were first developed in the early 1940s. Plenty of toy manufacturers have produced toy helicopters in many different forms, from basic plastic moulded versions for toddlers, right up to fully controllable flying scale models.
Playmobil is one company that includes some fantastic toy helicopters for toddlers in their comprehensive vehicle selections, whilst Silverlit are at the forefront of more sophisticated versions. Many die-cast vehicle manufacturers also make toy helicopters, and kids can have loads of fun pretending to fly them through the air and crash landing!
The early radio-controlled toy helicopters were expensive items to purchase. Not only that, they were fiendishly difficult to fly, and could be written off in a first flight crash. Some real helicopter pilots even thought they were more difficult than the ones they flew every day! Technology has moved on however, and with the development of lightweight materials, toy helicopters are now affordable for everyone. The latest toy helicopters are designed for indoor use, and are much smaller versions of the bigger models. They are powered by miniature re-chargeable batteries, and mainly constructed from styrofoam which is strong and light.
The hand held control unit allows the toy helicopter pilot the opportunity to control speed and direction, plus take off and landing. The contra rotating blades ensure they are stable in flight, and gives them an amazing amount of controllability. There's even a toy helicopter version made of the iconic twin rotor Chinooks, and so the sophistication of these models in such a small package is extremely impressive. Toy helicopters can be bought from almost all sellers of toys, gadgets or gizmos, and the growing market is testament to the hours of fun they provide – not only to kids but adult boys as well.
FEATURED RETAILERS

The world's most famous online retailer sells an unparalleled selection of toys.
Visit Amazon Now >>
Other categories in our
Cars & Vehicles
section:
Ambulances
,
Boats
,
Buses
,
Cars
,
Fire Engines
,
Lorries
,
Planes
,
Police Cars
,
Submarines
,
Tractors
,
Trains
.
OTHER RETAILERS