Toy Planes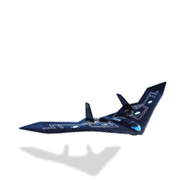 Ranging from basic plastic toys for the very young children, to expensive radio controlled models, toy planes cover a huge spectrum of sizes and sophistication. At some time or other, every little boy (and probably some girls) have picked up a toy plane and pretended to fly it around the room or garden. Some may even go on to become real pilots and fulfill a childhood dream.
Probably the biggest category of toy planes is that of scale model kits that have to be assembled and painted. There are dozens of manufacturers in this market, with Airfix and Revell being the best known in the UK. Take a look at our category for more details of these. The radio controlled versions are great fun to build and fly, but one small mistake on the control lever can send the model crashing to earth and requiring hours of re-building.
A child's fascination with flight means that manufacturers have created a massive number of toy planes for kids to choose from. Subjects like the Red Arrows, the latest passenger jumbo jet or the most secret military Stealth Bomber are all faithfully reproduced in plastic, wood or metal for a child's enjoyment. Whilst many of these toys are just static, some can have their propellor wound up by a long stretchy rubber band and can fly for several hundred metres before landing. Wide open spaces are advised for these versions to avoid tears when they're lost!
FEATURED RETAILERS

The world's most famous online retailer sells an unparalleled selection of toys.
Visit Amazon Now >>

A comprehensive range of over 600 items of plastic model kits and accessories.
Visit Relish Models Now >>

Find "stuff that you don't need... but really really want" on the IWOOT website.
Visit I Want One Of Those Now >>
Other categories in our
Cars & Vehicles
section:
Ambulances
,
Boats
,
Buses
,
Cars
,
Fire Engines
,
Helicopters
,
Lorries
,
Police Cars
,
Submarines
,
Tractors
,
Trains
.