Activity Gyms, Centres and Tables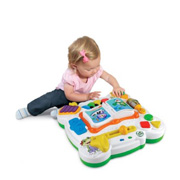 With the increasing use of miniature electronics in many toys, itís no wonder that baby activity centres and gyms are now full of flashing lights, different sounds and buttons to press. From an early age, babies are surrounded by all sorts of stimulation and this helps to make them fast learners. Fisher Price, Lamaze, Chicco, East Coast and Vtech are just a few of the popular suppliers of these types of toys, and with such big ranges, parents are spoilt for choice.
Probably the most popular types of activity gyms incorporate a floor mat so that baby can lie on his or her back and reach out for all the interesting toys hanging just within their grasp. Some of these have a raised side to stop your baby escaping, and they include materials with different textures and sounds, baby mirrors, rattles, soft toys and hanging mobiles. As the kids get to toddling age, parents can invest in an activity table that has even more things to do like switches, knobs, shapes to sort, musical sounds, lights that flash and so much more!
Vtech make a superb selection of wheeled activity toys that double up as baby walkers, with a pink version for all the little girls, and these also include a pretend phone for even more play value. Whatever your budget, thereís an activity centre, gym or table that will be suitable, and with such a wide choice of traditional and online retailers thereís never been a better time to buy one.
FEATURED RETAILERS

The world's most famous online retailer sells an unparalleled selection of toys.
Visit Amazon Now >>