Teething Toys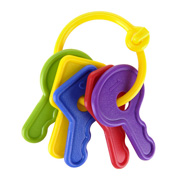 All parents can sympathise with their babies when the teething period begins. For some children itís not a problem, but most will experience quite a lot of discomfort and be pretty fed up and miserable. All they want to do is chew on something soft and cool to help with the pain, and a number of companies make some great teething toys to help with this process.
More hygienic than a blanket or a parents finger, teething toys are designed to be held by the child in their mouth. Many of them are ring-shaped in nice soothing colours, often with a series of rattle type toys to accompany them. For a long time, Europe's favourite baby teething toy has been Sophie the Giraffe. Thanks to endorsements from some high-profile UK celebrities, Sophie is now more popular than ever in the UK too!
Companies like Vulli, Chicco, Tommee Tippee, Learning Curve or Manhattan Toys all make a good selection of teething toys to help babies through this difficult time in their young lives. Some of these clever multipurpose designs may also incorporate small mirrors for baby to see themselves, or even different fabric parts that have varying Ďtouch and feelí characteristics. Babies love to chew on something cold and firm as they begin to teethe - and the shops below stock products that have been specially designed for teething babies with sore gums.
FEATURED RETAILERS

The world's most famous online retailer sells an unparalleled selection of toys.
Visit Amazon Now >>

One of the nation's favourite places to find imaginative and creative toys.
Visit Early Learning Centre Now >>