Cot Mobiles for Baby Boys and Girls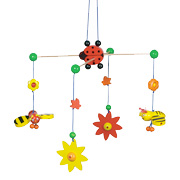 Almost the first toy that a new baby will see is their beautiful cot mobile thatís designed to stimulate them from a very early age. Whilst some of them are passive and literally only turn with air movement within the bedroom, others from companies like Vtech or Fisher Price are far more sophisticated and have battery-operated movement as well as lullabies or other sounds. The most popular cot mobiles feature animals or birds, and the gentle rotation provides an ever changing piece of scenery.
Legler, Bigjigs and Nattou are just three companies that include a selection of cot mobiles in their nursery collections, and with some even including lights in the mechanism, the choice is almost endless. Whilst most of these cot mobiles can be clamped to the cot sides, others are often suspended from the ceiling above.
Fashionable licensed cot mobiles include characters from Winnie the Pooh stories. Piglet, Tigger and Eeyore all look terrific when suspended above babyís face. As the children get older and start reaching for things, they often gurgle with joy as they knock the animals and make them turn on their own.
FEATURED RETAILERS

The world's most famous online retailer sells an unparalleled selection of toys.
Visit Amazon Now >>