Gift Baskets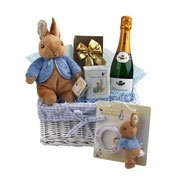 Every friend and relative loves to go and visit a newborn baby, so what better present is there than a beautifully chosen baby gift basket? Often these can be purchased pre-packed with lovely baby creams, soaps, oils, shampoos and lotions, and are traditionally presented in a practical wicker basket. Other versions may be packed with baby towels, sponges and bath toys. If the mum and dad are really lucky, some even have a bottle of celebration bubbly included!
Other baby gift baskets are colour co-ordinated for a baby boy or girl and contain sets of baby clothing like sleep suits, booties, hats and bibs. Soft toys are very popular of course, and many of these gifts sets will have a small cuddly bunny or bear lurking inside. Whether shopping in a traditional shop or online there's a huge selection of baby gift baskets to choose from.
Another variation to these baskets is the baby nappy cake. Often looking like a large iced christening cake they're actually made of material around a solid container. Inside there's usually a variety of disposable nappies as well as various cleaning lotions and baby powder. There's a great choice of price points to choose from, from budget baby gift baskets right up to large baby hampers at over £100 each!
FEATURED RETAILERS

The world's most famous online retailer sells an unparalleled selection of toys.
Visit Amazon Now >>
OTHER RETAILERS