Baby Rattles and Teethers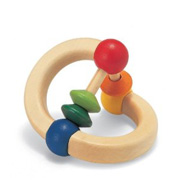 As every mum and dad will know, a babyís first toy is almost certainly going to be rattle. Whilst newborns are unable to hold anything at such an early age, a baby toy rattle thatís gently shaken by parents or siblings is a great source of stimulus for the new addition to the family. Modern rattles come in all shapes and sizes, and are also made in a huge variety of materials.
Many rattles are hidden inside an appealing soft toy, whereas others made of plastic or wood can be cleverly designed to adapt into a more interesting first toy as the baby grows. Whatever form a baby rattle takes, itís important that it is soft and safe. All major suppliers including Pintoy, Tommee Tippee, Fisher Price, Chicco or Brio take their responsibilities over safety and design very seriously.
Some of these baby rattles also double up as baby teethers with soft and comforting parts that help a baby through this difficult period in their lives. Learning Curveís Lamaze range of baby toys has some great examples of baby rattles, but many other well known companies also offer these types of products too.
FEATURED RETAILERS

The world's most famous online retailer sells an unparalleled selection of toys.
Visit Amazon Now >>