Children's Shape Sorters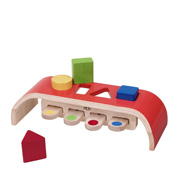 Children's shape sorters are one of the most educational toys that parents can buy their young babies or toddlers. Whilst the very first ones may only have two or three shapes to sort out, once that skill is mastered there's so many different ones to choose from. Firms like Fisher Price, Chicco, Wonderworld and Lamaze all make variations of children's shape sorters, often incorporated into another toy for extra play value.
Some are simple tubs into which the shapes fall, whilst others can be cubes, vehicles or toy buildings that require the coloured shapes to be posted through windows or roofs. Electronics play a big part in everyday lives, even for the humble children's shape sorter that can reward a child with a sound or tune when they put the right shape into the right slot.
You can buy children's shape sorters in the profile of cars, trains, cubes, noahs arks, buses or animals - and as the kids get a little older, in the shape of a clock. With a different shape for each number it's also a great way to get your toddler starting to learn how to tell the time. You can buy kids shape sorters in a traditional toy shop or from one of the hundreds of online retailers.
FEATURED RETAILERS

The world's most famous online retailer sells an unparalleled selection of toys.
Visit Amazon Now >>