Wind Designs Toys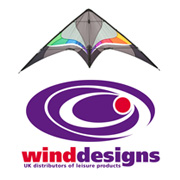 By focussing on an eclectic mix of top branded outdoor toys, Wind Designs is at the forefront of everything new in outdoor sports and games. They distribute their outdoor toys through a large network of independent and multiple retailers, many of whom also operate online with fast delivery.
A comprehensive kite section encompasses these flying machines from children's kites to sports, stunt and power kites, as well as kite surfing equipment, clothing and accessories. When the sun comes out and the breeze dies down, Wind Designs can offer their customers water guns for a shoot up in the park. For the more aggressive players, the modern bows and arrows from Air Hunterz that includes the amazing Z-Curve Launcher are just the job for safe target practise.
Kids always enjoy chucking the Wind Designs outdoor toy flying discs to their mates, but if guns are more your thing, check out the amazing Nerf pistols, machine guns and blasters for the ultimate fun and action. Unicycles and juggling equipment are just two more great ranges from Wind Designs with plenty of new stuff added all the time.
HERO PRODUCTS

RECOMMENDED CATEGORIES

A trip to the seaside with a bucket and spade is the most quintessential of British activities.
Visit the Beach Toys category >>

Juggling, plate spinning and unicycling are just a few of the popular circus products.
Visit the Circus category >>

Find shops that stock products to enhance your festival or camping experience.
Visit the Festival Toys category >>

Every spring is the time when gardening toys for kids really come into their own.
Visit the Gardening category >>
Traditional single-line kites or modern stunt kites, you should be able to find them here.
Visit the Kites category >>
Outdoor toys and games are the perfect way to keep your kids fit and active.
Visit the Outdoor category >>

Little Tikes and TP are just a few of the toy manufacturers that make children's sandpits.
Visit the Sandpits category >>

Classic sports toys like golf clubs, cricket bats and tennis rackets are the most popular.
Visit the Sports category >>

From traditional water pistols to the latest Nerf Dart Tags, find shops selling toy guns here.
Visit the Toy Guns category >>