Kidizoom Twist Plus
No customer reviews yet. Be the first.
Electronic toy maker VTech reinvigorated the children's electronics market when they launched their acclaimed Kidizoom digital camera back in 2007. This robust and colourful digital camera - designed for children aged 3 and over - featured chunky buttons and easy-to-understand icons. Children could take pictures, record short movies and play a selection of games, all in this clever little bit of kit.
There have been a number of upgrades since the original Kidizoom camera was launched, but none have been as radical as the Kidizoom Twist which is packed with extra features and functionality.
Available in blue and pink versions, Kidizoom Twist's main selling point is the ability for children to twist the lens 180 degrees back on itself and take self-portraits of themselves and their friends. With 2.0 mega pixels, 256Mb of memory and a 1.8" screen and flash, the Twist is the most technologically advanced Kidizoom digital camera ever created. Even better, VTech has been able to pack in tons of extra features whilst maintaining its retail price.
With advancing technology, Kidizoom Twist got a major upgrade for 2013. Known as the Kidizoom Twist Plus, a whole host of new features were incorporated into this new model. Extra features include a 2.3"LCD colour screen, a personalised menu, and an impressive burst mode for taking a rapid succession of images. It also includes face detection, a motion triggered self-timer and an amazing video creator.
Children aged 3-9 love the Kidizoom Twist Plus for its ease of use as well as the impressive features. Available in pink or blue, this camera can also be connected to Vtech's Learning Lodge Navigator to link in with downloadable apps, games and themes.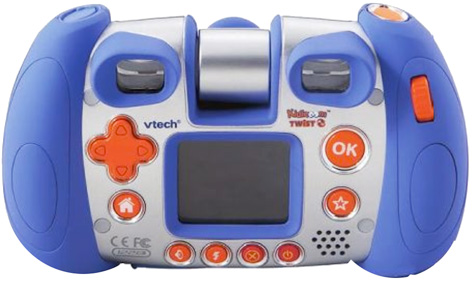 With 4x digital zoom, 5 built-in games and lots of in-built effects that can be applied to photos, there is so much fun to be had with the Kidizoom Twist Plus camera. Further good news is that the camera is compatable with VTech's InnoTab, meaning you can view and manipulate your images on a crystal-clear five inch screen.
Here's what the original Good Toy Guide said of the original Kidizoom camera:
The chunky handles and "indestructible" design make it a refreshing change from adult cameras, where there's always the possibility of real damage when used by a young child. "My nine-year-old sussed it all out in minutes and showed the younger one, four-and-a-half, how to use it," one parent told us. Susie, aged eight, loved being able to edit pictures and make movies. "It does a lot of things but is easy to use," our testers said. The picture quality is fine for young children, and overall our testers felt that this camera offers excellent value for money. A winner in every way!
RECOMMENDED RETAILERS

Amazon
The world's most famous online retailer sells an unparalleled selection of toys.
Buy the Kidizoom Twist now >>