KidiPets
No customer reviews yet. Be the first.
In the world of virtual pets they don't come any better than Vtech's KidiPets. Featuring three different pet characters to collect – Puppy, Pony and Kitten – children can train their chosen animal in lots of different ways! By twisting the outer ring, each pet can visit an exciting different location such as the park or the beach.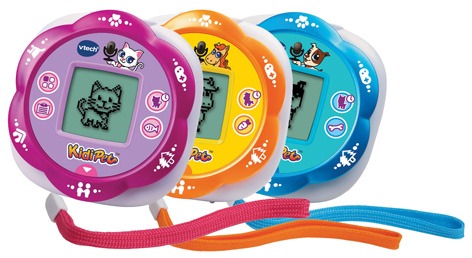 By playing different activities, kids can collect coins which unlock some thrilling bonus games. Kids can even teach their KidiPet extra fun phrases through the clever built-in microphone! Every model will interact with each other so that friends can play together or on their own. You can even check on the pet's status and health, or send messages and go on new secret missions.
Kidipet inspires independent and creative play as well as assisting with nurturing skills. KidiPet Friends take the concept a stage further with cute animal-shaped faces that use the screen to create varied expressions. A base is included so that they can be used as a clock or alarm on a bedside table. Children learn to nurture their pets and teach them to perform new tricks with the clever 'pat sensor'.
Each KidiPet Friend can communicate with others by sending messages or even greetings cards. They'll also learn their owners name so they can respond when talked to. These clever little toys capture children's hearts and imaginations with their ability to learn new things as they get older.
RECOMMENDED RETAILERS

Amazon
The world's most famous online retailer sells an unparalleled selection of toys.
Buy KidiPets now >>