Kidizoom Fun Cam
No customer reviews yet. Be the first.
The ultra-clever designers at Vtech are great at creating kids products that that mimic adults electronic gadgets, but at a much more affordable price point. The Kidizoom Fun Cam is just such a device. Sold with a fully waterproof case, this rugged little gadget can be used for underwater filming or even mounted on a bike to record that special moment on the BMX track.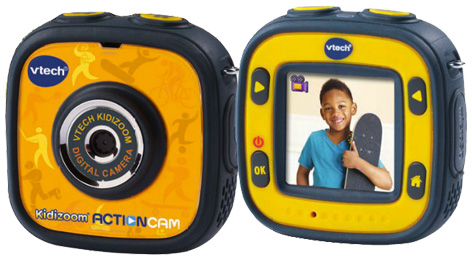 Fun Cam is also capable of taking still images and the 128MB internal memory can be boosted by the addition of an optional micro SD card. A built-in rechargeable battery ensures plenty of shooting time, and simple special effects can be added at the editing stage.
The large screen enables kids to also play three different games during rest breaks, or maybe they'd prefer to take some stop motion shots of their mates showing off their latest stunts! However it's used, Fun Cam is a great addition to Vtech's ranges and joins a growing stable of Kidizoom products.
RECOMMENDED RETAILERS

Amazon
The world's most famous online retailer sells an unparalleled selection of toys.
Buy the Kidizoom Fun Cam now >>